#MOMTASTICTHERIVER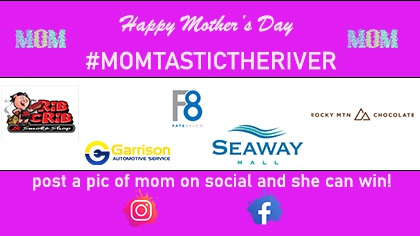 Post a picture of MOM on social media and tell us why she is the best and be sure to #MOMTASTICTHERIVER.
From May 3rd - 7th we will be giving away a prize from one of our awesome sponsors to a lucky MOM.
Monday - Rib Crib
Tuesday - Garrison Automotive
Wednesday - Fate Salon
Thursday - Seaway Mall
Friday - Rocky MTN Chocolate
or enter mom's name and contact info below.