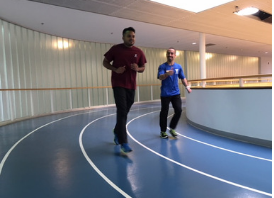 Photo Credit: MacBain Community Centre Facebook
Walking track to re-open on December 6th to fully vaccinated individuals.
The walking track at the MacBain Community Centre will re-open on Monday December 6th
The City says sessions will be available Monday to Friday from 9 AM to 3 PM.
A 20 person capacity limit will be in effect, and you'll need to wear a mask and show proof of vaccination.
You'll also need to complete a COVID-19 screening when you arrive.
Anyone 16 and older can make a reservation to walk on the track.