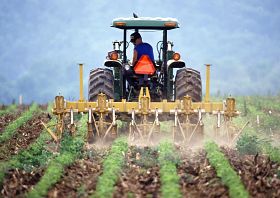 The Ontario Federation of Agriculture says the province is losing a significant amount of valuable farmland every day.
The Ontario Federation of Agriculture is encouraging people to keep land use issues in mind during the upcoming municipal election.
According to the Census of Agriculture, the province is losing about 319 acres of productive farmland every day.
In terms of food and beverages, that is about enough acreage to produce over 23 million apples or 1.2 million bottles of Ontario VQA wine.
We spoke to OFA Vice President and Niagara-Hamilton representative Drew Spoelstra, who says there are things Niagara residents can do to help.
"The municipal election is coming up. Residents can talk to candidates...to see what their position is on environmental preservation and local production. They can also get involved in lobbies, for better use of land and farmland."
Spoelstra also says while he understands there is a strong desire for building more houses, people in Niagara need to realize there is a lot of valuable farmland in the region.
The entire conversation can be heard below.